Global Ice Hot Line: 020 8575 7112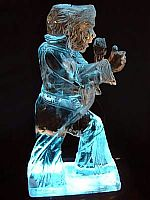 Vodka Luges Ice Sculpture
Break the ice at any party with our show stopping drinks luges.
Compliment the Drinks Luge with our neat Ice Shot glasses. Manufactured in this country only by Global Ice.
Imagine your guests enjoying vodka ice shots taken through a crystal clear luge, to make the night go with a BANG !.
Simply pour a measure into the channel at the top of the luge, and within seconds a beautifully chilled shot will be dispensed into your shot glass, or of course straight into an open mouth !!
Global Ice Company pride ourselves by supplying the complete service nationally and internationally, from a local party to some of the biggest clubs in town and in Europe.
Distance is no object, our carriers have transported to many far away destinations, including some well known Mediterranean Islands, but we're more than happy to supply and instal to anywhere, from a private party or summer ball at your University to your corporate function/event.
Please view some of the small pictures listed below, click on any of them for a larger picture.
All prices inc vat.
All prices do not include delivery charges where applicable.
| | | | |
| --- | --- | --- | --- |
| Part No   | Sculpture   | Dimension   | Price   |
| L010 | 007 James Bond Revolver | H50cm x W100cm | £325.00 |
| L010a | 007 Logo | H50cm x W100cm | £325.00 |
| L038 | Bar Top | H30cm x W25cm | £135.00 |
| L013 | Cinderella Slipper | H100cm x W50cm | £325.00 |
| L037 | Corporate double run (Logo's to suit) | H50cm x W100cm | £325.00 |
| L015 | Devil's Head | H100cm x W50cm | £300.00 |
| P065 | DJ & Decks | H100cm x W100cm | £495.00 |
| L016 | Dragon's Head | H75cm x W50cm | £295.00 |
| L027 | Electric Guitar | H50cm x W100cm | £295.00 |
| L007 | Elvis Luge | H100cm x W50cm | £350.00 |
| P072 | Entwined Lovers | H100cm x W50cm | £325.00 |
| L009 | Fiery Dragon | 1 metre x 1 metre | £470.00 |
| L017 | Hand and Bottle | H100cm x W50cm | £300.00 |
| L028 | Helter Skelter | H100cm x W50cm | £325.00 |
| L024 | Horses Head Luge | H50 cm x W100cm | £295.00 |
| S002 | Ice Cocktail glasses (box 75) | H11cm x W6cm | £150.00 |
| S001 | Ice shot glasses (box of 50) | H5cm x W5cm | £50.00 |
| L034 | John Travolta | H125cm x W50cm | £375.00 |
| L040 | Martini Glass and Hand | H100cm x W50cm | £325.00 |
| P082 | Memorable Numbers | H50cm x W100cm | £295.00 |
| L018 | Olympic Ski Jump | H75cm x W50cm | £225.00 |
| L023 | Oscar | H100cm x W50cm | £295.00 |
| L029 | Penguin | H100cm x W50cm | £295.00 |
| C055 | Rabbit | H100cm x W50cm | £295.00 |
| L008 | Santa Head Luge | H100cm x W50cm | £350.00 |
| L036 | Sleeping Mexican Luge | 1m high x 0.5m wide | £325.00 |
| L020 | Snake Coiled Around A Tree | H100cm x W50cm | £295.00 |
| L039a | Tommy Gun Luge | H50cm x W100cm | £325.00 |
| L021_a | Torso (1 Male & 1 Female) | H100cm x W100cm | £480.00 |
| L022 | Torso (Female) | H100cm x W50cm | £265.00 |
| L021 | Torso (Male) | H100cm x W50cm | £265.00 |