Global Ice Hot Line: 020 8575 7112
Ice Cubes

Global Ice is the leading supplier in the UK of pre-packed ice cubes.
With production facilities for producing in excess of 20 tons of cubes per day and offices throughout the UK, we offer an unrivalled service.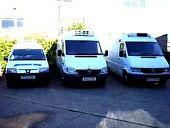 Deliveries are available 7 days a week, no matter when your function is, we can deliver to you. If you need ice for a house party or a huge corporate event, we will be able to help you.
Our ice cubes are supplied in two packed weights. Our standard size bags when manufactured are a minimum weight of 11 Kgs.
Smaller 3 Kgs bags are also available to retail outlets.
Ice cubes attractively packaged, this size is ideal for off licenses, supermarkets and petrol stations.
If you need advice or help with the quantity that you need, simply contact us by telephone or go to our contact page.